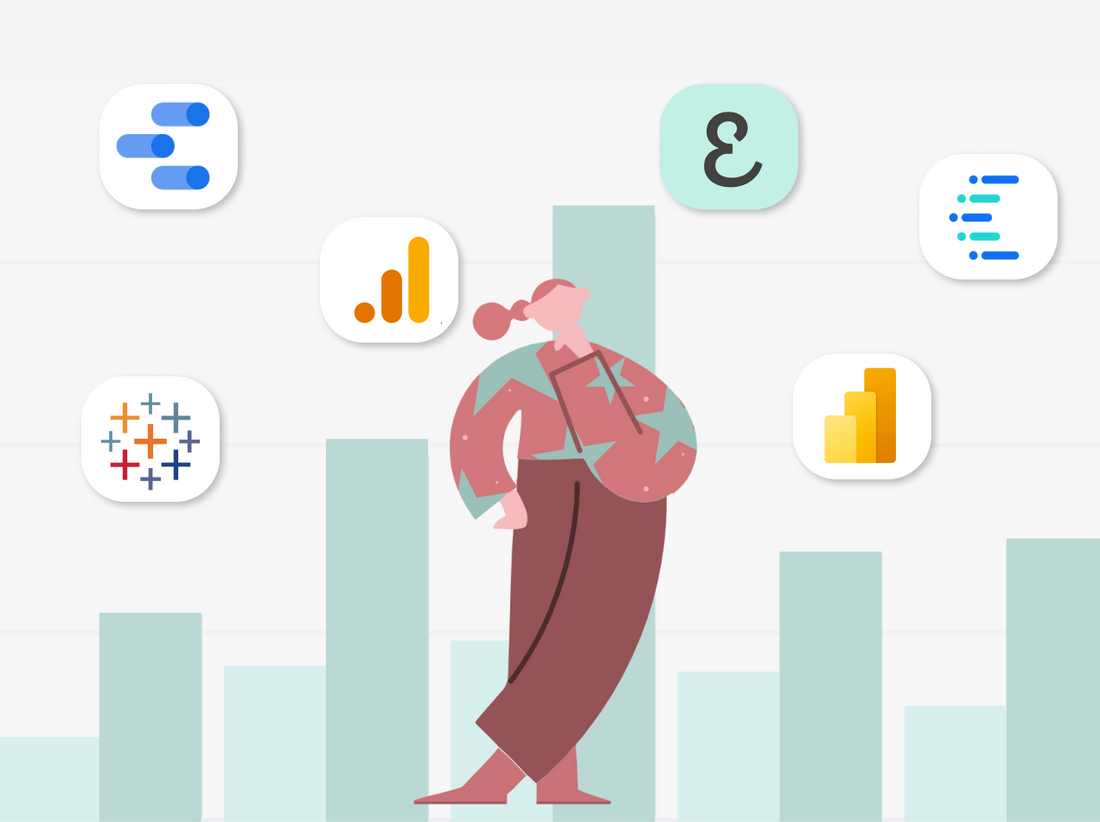 As the volume and complexity of data continue to grow in today's business landscape, understanding big data has become increasingly challenging. With the vast amounts of scattered data, it can be a daunting task to make sense of it all and extract valuable insights. 
In today's data-driven business environment, having the right analytical tools is crucial for  not only optimizing operations and making informed decisions but also to be able to gain a competitive advantage in the industry. 
With 2023 well underway, we've rounded up the seven best analytical tools that can provide valuable insights to for your business. 
1. Ellis 

Of course we need to mention our own analytics tools, but we promise it is on the list for a good reason. 
Ellis is a AI-driven business intelligence tool that combines data from multitude of sources into a dashboard. There are 25+ optimised dashboards that are can help with the needs of D2C merchants, analysts, marketers and even C-level. You can easily track e.g. Average Order Value, Customer Acquisition Cost, Lifetime Value, Return On Advertisement Spend and Retention and forecast future sales. You can easily detect relevant changes in trends, find valuable customer segments, and identify how to build better product bundles. 
Pros: 
Multi-use for the whole organization, dashboards can be customized with our service according to each teams needs

Best tool for Shopify users due to the seamless integration to Shopify, Shopify POS, different apps, and other channels, which helps omni-channel sales performance. 

Built for D2C brand needs with the ability to forecast sales, and get in-depth insights into product performance, inventory management and customer behaviour data. 
Cons:
Complex multi-store configurations requires expert set up service

Not customisable by yourself. 

Can be pricey for smaller brands
2. Microsoft Power Bi
Microsoft Power BI is a cloud-based business analytics service that enables businesses to create interactive dashboards and reports. It allows users to connect to multiple data sources, including Excel spreadsheets, SQL databases, and cloud-based services, to create dynamic visualisations and gain insights into their data. With its intuitive interface and powerful features, Microsoft Power BI is an ideal tool for businesses of all sizes.
Pros: 
User-friendly interface making it easy to create interactive visualisations and reports.
Integration with other Microsoft tools such as Excel, SharePoint, and Teams.
Easy collaboration as it allows users to share reports and collaborate with others in teams and organisations.
Cons:
Limited customisation to the appearance and functionality of their reports.

The free version of Power BI has limited functionality and is designed for individual use only. To access more advanced features and collaboration capabilities, users will need to upgrade to a paid version.

Requires Microsoft ecosystem: This can be a limitation for organisations that use other platforms and tools.
3. Tableau 
Tableau is a powerful data visualisation software that enables businesses to see and understand their data. It's designed to transform complex data sets into interactive and easy-to-understand dashboards and reports. Tableau remains a popular choice among businesses in 2023 due to its advanced features, including drag-and-drop functionality, seamless integration with multiple data sources, and support for real-time data analysis.
Pros: 
User-friendly which

makes it easy to create interactive visualisations and reports without requiring programming skills.

Customer support: There is a lot of resources available to for users and they have an active community where you get answers quickly. 

Upgrading is easy to carry out without the need of assistance.
Cons: 
Manual work: Many of the updates in data do not happen automatically, and require manual labour. 

You need SQL knowledge to create more complex datasets.
4. Google analytics 4
Google Analytics 4 is the latest version of the popular analytics tool that helps businesses track website traffic, user behavior, and engagement. It offers advanced machine learning capabilities that enable businesses to gain insights into their audience's interests, demographics, and behaviors. With Google Analytics 4, businesses can make data-driven decisions to optimise their digital marketing campaigns.
Pros: 
Uses event based data instead of session based 

It has a cross-device and cross-platform tracking system, giving you a more holistic insight to your customer behaviour 

It uses AI to predict future trends and provide unique insights. 
Cons:
It doesnt have an Attribution model (atleast yet as its in its early stages) which is needed to asses conversion.

Transitioning from the older version leaves your own data behind. Meaning, you wont have year-to-year comparison. 
5. Google data studio 
Google Data Studio is a free data visualization tool that enables businesses to create custom reports and dashboards using data from various sources, including Google Analytics, Google Ads, and Google Sheets. It offers a wide range of visualization options and allows users to collaborate and share reports with other team members. Google Data Studio is an excellent tool for businesses looking to gain insights into their data without investing in expensive software
Pros: 
Its completely a cloud-based service, so no need for manual managing of infrastructure or installation. 

Integrates well to the Google ecosystem with applications such as Google Anlaytics 4, Google Sheets etc. 

Its very intuitive to use and free of cost
Cons: 
Simple in terms of visualisaton, for those needing more complex and flexible customisations will not be able to do that with Google Data Studio

Real-time updates in the dashboard are not refreshed automatically

Dashboard loadtime is slow the more functions are added to the view.  
6. IBM Cognos Analytics
IBM Cognos Analytics offers advanced analytics capabilities, including predictive analytics and artificial intelligence, and enables users to create custom reports and dashboards that can be shared with other team members. With its advanced features and powerful capabilities, IBM Cognos Analytics is an ideal tool for businesses looking to optimise their daily operations.
Pros:
Visually appealing reports and dashboards are in easily-understood formats

with the ability to drag and drop data onto the screen and see the visualisation change to suit the analysis, 

Highly scalable and configurable with seamless integration, making it fast tool to implement on a enterprise level. 

Effective use on mobile. The app is secure and dashboards are as visually appealing and configurable as on the desktop. 
Cons: 
Troubleshooting errors are not clear enough for you to understand how to solve the issue

Limited options geographical reporting

Can be a difficult to learn how to use and limited support available. 
7. Alteryx 
Alteryx is a self-service data analytics platform that helps businesses prepare, blend, and analyse data from multiple sources. It enables users to automate data processing tasks and build workflows without coding, making it an ideal tool for data analysts and business professionals. 
Pros: 
Fast-processing compared to other tools and processes larger file sizes up to 50GB.

Flexible with visualisation options and easy-to-use interface with pre-configured templates, making it easy for users without coding experience

Not limited to specific databases or formats making it easy to integrate data into the workflow
Cons: 
Free version is limited with functionalities. Paid verson is more on the more pricier side, which can be an issue for smaller brands looking to start out with data analytics. 

Lack of collaborative reporting. If you want to share dashboards built in the system, you will need a third-party tool for exporting such as Tableu or Powerbi. 

Lacks transparency, which can be an issue for users wanting full control of their workflow process. 
As you can tell, a lot of these data analytics tools offer similar functions and features to help you better analyse and manage your data. The right tool for you depends on which systems you are mainly using, the level of support you need with analysing data, and your budget.